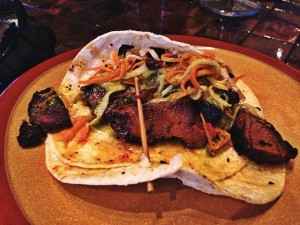 By Mai Pham
June 28, 2013
There's something about Pistolero's, the new taco and tequila bar in Montrose that took over the Nabi space on Westheimer, that oozes cool. I'm talking the bad boy, Javier Bardem, "No Country for Old Men," kind of cool that spoke to me immediately when I stepped through the doors. "You can hang out here for hours," it said to me. "You will want to come back here often," it whispered.
"Yes," my subconscious answered instinctively. It didn't matter that their tacos were the kind that you go home raving about, or their cocktails the kind that light up the camera for that great Instagram photo. I was already sold, even before I found out about their fantastic happy hour offering: Two tacos for $5 — Oh. Yeah!
The regular price for a taco is $3.95, or four for $14, and 10 for $30. That drops down to almost half price from 3 p.m. to 7 p.m. Monday through Friday, and it's a steal of a deal, cheaper and bigger than taco truck fare, and seriously gourmet.